Professional Learning Community Overview
If we can educate students in Africa who develop resistant cultivars for our farmers, then we can improve productivity. . . And when we improve productivity we solve the big problems of food insecurity on the planet.
Dr. Richard Akromah
KNUST
Goal: Support African faculty in their quest to educate competent and capable future plant breeders who can solve Africa's food security issues.
We believe in the power of education and collaboration.  Professional learning communities (PLC's) are about plant breeding educators sharing their content expertise and their educational strategies to improve the academic performance of students.
In a nutshell, our aim was to:
Assist faculty with incorporating the PBEA modules in effective ways.
Facilitate instructional effectiveness by helping faculty design their curriculum and lesson plans and strive for a learner-centered approach.
Collaborating with faculty at Makerere University in Uganda, University of KwaZulu-Natal in South Africa, and Kwame Nkrumah University of Science and Technology in Ghana and with funding from the Bill and Melinda Gates Foundation, our project team created a number of tools and resources to enhance delivery of the Plant Breeding in E-learning in Africa (PBEA) curriculum.  Learning guides, power point slides, lesson plans, videos, and other resources, as well as one to one and group consultations were provided in-country and on the Iowa State University campus. Many of these products are included in this Professional Learning Community (PLC) website.  We encourage you to use these resources and share what works for you with your colleagues, so you can create your own PLC!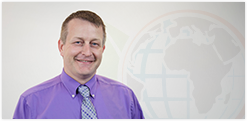 Mike Retallick
Professor and Chair,
Iowa State University (ISU)
Phone: (515) 294-4810
Office:
201 Curtiss 513 Farm House Lane Ames, IA 50011
Contact the PLC team (pbeaplc@iastate.edu) if you are interested in our services or would like to include our work and staff in any funding opportunities.